If you're having troubles seeing the above menu see the new Site Map for viewable buttons.

Kim Germaine Band


You can't rock harder than Harlan's mom. If you think you do, I'll fight you.

Ctrl+Alt+Del Online



A great web comic about gaming, very deep and hillarious characters.

White Ninja Comics


Master of Ninjitsu!

Konsekai: Swordwaltzer



Awesome online manga. A must read!

Penny-Arcade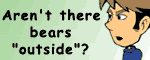 You wont find another video game comic better than this one.

Lick My Jesus



A photo comic with brilliant random humor.


Add Pure Caffeine to your Smackjeeves favourites!